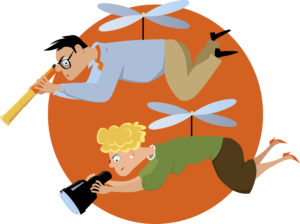 With millennials' entrance into the workforce, an unexpected group has been showing up alongside — their parents.
Almost a third of recent college graduates said their parents had a hand in their job searches, according to a survey several years ago by staffing agency Adecco. Now, a hand with scouring job listings or proofreading resumes is one thing, but almost one in 10 recent grads reported that a parent had tagged along to a job interview. Three percent said their parents actually sat in.
Some parents go to extremes. One mom brought a cake to help her daughter's chances, a survey found. A candidate brought a laptop so his mom could Skype in for the interview.  Another applicant texted interview questions to a parent and waited for responses. A parent asked to serve as proxy in an interview because the child had somewhere else to be.
Odd? Yes. Unprofessional? Certainly. And if you're irritated by it, you're not alone.
Just over a third of senior managers interviewed said it's annoying when "helicopter parents" get involved in a child's job search, according to a 2016 survey by Robert Half staffing service OfficeTeam. Another third said they'd prefer parents keep out but would let it slide. Twenty-nine percent didn't see a problem with it.
So how do you handle this helicopter-parenting-into-adulthood phenomenon correctly? Here are some ideas:
Embrace it — on your terms. Bear with me here. I know it sounds counterintuitive to do anything to encourage hover-parents, but there are ways you can let them in without letting them take over. Think about the advantages of having the parents pulling for you if you're trying to convince a promising young hire to join or stay with your firm. Some companies, such as Enterprise, will send recruitment packages to parents (a candidate should give permission for this). Google, Amazon and LinkedIn host periodic "Bring In Your Parents Day" events at which parents get to explore and experience their youngsters' work environments. Such outreach can be a nod to the formative roles parents have played in their children's lives — and acknowledge the extended involvement of many parents today.
Set clear boundaries from the start. Even in a job listing or application form, state that interviews and discussions of compensation specifics will only involve individual job candidates. If an overeager parent overlooks that proviso, diplomatically thank him/her for the interest, but explain that confidentiality requires such discussions to be held only with an applicant. To go the extra mile, you could mention any events at your company that would be open to parents or offer to send information about the company. Resist the temptation to completely write off a candidate simply because a parent calls — the candidate may very well be mortified about the call. However, that doesn't mean you ignore the reality that this potential employee may come with extra challenges.
Be polite. Despite the annoyance, you'll gain nothing — and could lose the candidate, subject your company to a social media thrashing or worse — by being rude, short or dismissive with a persistent parent. As mentioned before, thank parents for the interest, perhaps even mentioning information you can provide, and explain confidentiality. Also, you can remind parents that you prefer to get an impression directly from their children, and that applicants come across better if they show the initiative to handle career matters alone. Keep your cool — and maybe vent once you hang up the phone.
The added complications of hiring in the modern world can seem daunting for small business owners who already wear a plethora of hats. For help with your hiring policies, documents or practices, or with any other tough people questions, reach out to People People. We specialize in HR so small business owners don't have to, and we offer expertise about a broad range of HR concerns.