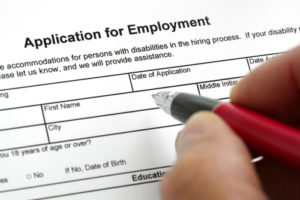 You may have heard about some sort of "Ban the Box" ordinance recently passed in Kansas City. Despite the somewhat cryptic name, it is something small business owners or managers need to know about. I know you already have plenty on your plate — so let me unpack what it means for you.
First, mark down this date: June 9. That's the date the KC ordinance takes effect, so if you're working on hiring anyone right now, changes need to be in place by then.
What Does It Mean?
Ban the Box deals with how soon in the hiring process an employer can broach the question of any crimes in a job candidate's past. Rather than having a question on an initial employment application that might prompt an employer to toss it without further consideration, employers must first weigh applications on their merits, with criminal history inquiries coming up later (details below).
From the city's perspective, the Ban the Box ordinance could help people who have been in jail to successfully rejoin society. A key reason people return to crime is that they can't find jobs to support themselves. According to the ordinance, there are about 9,000 Kansas City residents on state or federal probation or parole, plus thousands who have finished probation or parole but remain haunted by old criminal records. And about 350 ex-offenders a month are released from state and federal prisons. Kansas City wants those people employed not only to help prevent crime, but also because its coffers benefit when citizens have jobs and pay taxes.
Such requirements are becoming more common — 31 states and more than 150 cities nationwide have adopted versions of Ban the Box requirements, according to the National Employment Law Project. Johnson County, KCK and Jackson County also are on that list, though specifics may vary.
Getting Ready
If your business has at least six employees, take a look at your job application forms and interview guidelines, and nix any questions related to an applicant's criminal history. Those queries must wait until after a person has been deemed qualified and has been interviewed, making it to the final hiring stage.  Even then, employers can't base hiring or promotional choices on an applicant's criminal history unless they can show that decisions were based on all available information (i.e. the "frequency, recentness and severity of a criminal record"). They also must reasonably show that the candidate's criminal history would affect the job's duties and responsibilities.
There is an exemption, however, for positions governed by local, state or federal laws or regulations that prohibit employees with certain criminal convictions.
The Stakes
If the city receives a complaint about a violation of its Ban the Box ordinance, per its Human Relations code, it will investigate and attempt to get a violating business to remedy its practices. If sufficient changes aren't made, the issue becomes a legal matter that could end up in court and possibly cost a fine, the ability to work for the city or, for a repeat offender, its business license.
Don't wait for a slip-up — with the spread of Ban the Box policies, take a thorough look at your hiring procedures today. If you want help with this or other tough people questions, reach out to People People. We specialize in HR so small business owners don't have to, and we offer expertise about a broad range of HR concerns.