Blog
Home
Uncategorized
Handling the Holidays at Work: Making the Year's End Merry for Everyone
Handling the Holidays at Work: Making the Year's End Merry for Everyone
December 12, 2017
Belinda Waggoner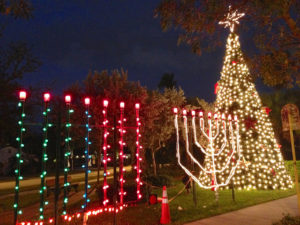 It's true that the vast majority of Americans celebrate Christmas — 92 percent, according to a recent Pew Research Center survey. And the decorations, ornaments and trees popping up everywhere from grocery stores to city squares make it seem ubiquitous. But in the workplace, employers must be cautious about getting carried away by the Yuletide.
Employers are required by law to accommodate the religious needs of their workers — and also to not discriminate based on religion. (Note that there are exceptions, such as for religious organizations or companies with fewer than 15 employees.) You might be surprised just how many cultural or religious holidays people could be celebrating during December, according to this list from CulturaLink:
Saint Nicholas Day (Christian)

Fiesta of Our Lady of Guadalupe (Mexican)

Lucia Day (Swedish)

Hanukkah (Jewish)

Christmas Day (Christian)

Three Kings Day/Epiphany (Christian)

Boxing Day (Australian, Canadian, English, Irish)

Kwanzaa (African American)

Omisoka (Japanese)

Yule (Pagan)
So with all of these potential celebrations out there, how do you avoid stepping on toes? Here are some of our Frequently Asked Questions about making everyone at the office feel included during the holidays:
With so many opportunities to make a mistake, should we just avoid a celebration altogether?
Look on the bright side. Most people are in a celebratory mood during December, making it a good time to decorate, hold a holiday party or simply make things a little more jolly around the office. It's a time when work tends to slow down and you can reward employees for working hard all year. Even with a very diverse workforce, you can usually find a way for everyone to enjoy year-end festivities.
What is the best way to handle an office party during the holiday season?
The safest route is to label an office party simply a holiday party so that it is inclusive to all, regardless of which holiday, if any, each employee celebrates. Many fun traditions — big meals or potlucks, white elephant gift exchanges, charitable activities — don't need to be tied to one particular holiday. Figure out what works for your office, and aim for light-hearted fun, which also can boost office camaraderie.
If you do choose to include elements of specific holidays in an office party, perhaps hoping to expose employees to other cultures, try to borrow from all the December holidays so as to be inclusive.
What other factors should I consider during the holidays?
Be aware that employees may need different days off than the typical Christmas and New Year's Day. It may help to ask for vacation requests early — even months before the holidays — so you can plan around varying schedules.
When you choose holiday cards or if you display signs in the office, choose your wording carefully so as to send a message of inclusivity. Besides employees, consider your clients, too. But in your efforts to be inclusive, remember to be respectful of religious traditions.
Finally, relax and enjoy the holidays. We may slip up in what we say, but most people understand and appreciate good wishes and kindness during the holiday season.
If you'd like more specific advice, contact People People — we'll guide you through what's right for your company.
Photo credit: Ed and Eddie via Creative Commons