Cyber Monday: A Bad Deal for Employers
November 21, 2017
Belinda Waggoner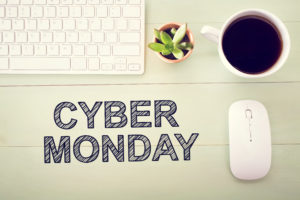 Cyber Monday may be a boon to online retailers, but it's a black hole in the workplace: In a recent survey, 75 percent of workers admitted shopping on a company device.
According to Adobe, next Monday could be the largest online shopping day ever, generating more than $6.5 billion in sales. What does that mean for productivity? More than 41 percent of workers said that last year, they spent an hour or more looking for bargains, and 23 percent said they plan to spend more time this year.
And wasted time isn't the only threat on Cyber Monday. Increased browsing activity can slow your network, hampering business applications. As Entrepreneur explained, "While many network users believe that Internet bandwidth is unlimited, there is indeed a hard cap on the amount of data organizations can have at any one time. Similar to physical roadways, the more traffic that exists, the slower things move . . .A slow network will slow down your Amazon transactions as well as the ability of co-workers to perform critical job functions and customers to access company portals and website pages."
Moreover, Entrepreneur warned, on a day when seemingly unbelievable deals are commonplace, employees may drop their guard and open malicious emails and websites, making your network vulnerable to malware and botnets.
Monitoring every employees' online activity is a cumbersome and impractical challenge. Instead, we recommend a few proactive steps to protect your business without resorting to complete Grinch status:
Start with policy. In the same survey where 75 percent of workers said they shopped at the office, 31 percent said they didn't know their employers' online shopping policy. Have clear and consistent rules, and share them. Your internet use policy should articulate reasonable expectations – such as allowing employees to use company devices to shop during break times and lunch hours.
Communicate before Cyber Monday. Remind your staff about your policy, as well as potential hazards from scams and network strain. We like these tips from Lifewire and Forbes.
Watch for egregious activity. Most employees who are shopping online won't draw attention to themselves, but some spirited deal-hunters may become distracting. Quickly address any disruptive behavior on a case-by-case basis. If an employee's online shopping is part of a bigger problem, document their Cyber Monday activity so it can be included in the larger discussion.
Do your holiday office issues have you feeling less than jolly? Contact us today.