Happy Holidays, Entrepreneurs. You Deserve It.
December 22, 2017
Belinda Waggoner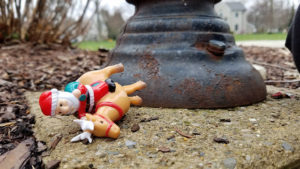 With sincerest apologies to Clement Clarke Moore, we offer our version of The Night Before Christmas…from a business owner's perspective. From all of us at People People, best wishes for a wonderful holiday.
'Twas the night before Christmas,
When all through the house,
This entrepreneur was still stirring,
To the chagrin of my spouse.
The stockings weren't hung;
They still sat in the box.
I had been too busy
To put up the socks.
The children were nestled
And in slumber deep;
My dinner talk about revenue
Had put them to sleep.
Feeling behind on the holidays,
And behind at work,
I sat down at my laptop
Feeling like a jerk.
When out on the lawn
I heard such a clatter, a din;
I thought I should look –
Wait, I'll check my email again.
Phone in my hand,
I crept to the window
I wasn't expecting sales tonight –
But hey, you never know.
I looked out to see
If perhaps it was storming.
There were no traces of snow
(Thank you, Global Warming).
Were my eyes fried from spreadsheets?
Or too much holiday beer?
Was I really seeing a sleigh
With eight tiny reindeer?
I knew the captain at once –
Obviously, it was Santa.
But I startled to see
Him chugging Mylanta.
He gave a long sigh
As he wrangled his crew;
Suddenly I realized –
Santa runs a business, too.
"Dasher, enough!
Leave Dancer alone!
Prancer, you're driving –
Yes, Comet – tonight's overtime.
It will be on your check.
Donner, eyes on the road –
I'm liable if you wreck.
Vixen and Cupid, lay off the romance –
You've been to training.
Being a manager  –
They went up to the roof,
He slid down the chimney.
It was a hard landing –
He groaned, holding his kidney.
"Hi, Santa," I said,
Stepping into the light.
"I'm not here to expose you;
I'm not here to fight."
"I usually don't do this,"
He said, "It's so risky.
But I'm so sick of cookies –
Do you have any whiskey?"
He took a swig, unpacked toys –
Like all entrepreneurs, multitasked.
I didn't see any presents for me –
So I sheepishly asked.
"You run a business," he laughed –
"Your gifts need no elf!
The best gifts for you,
You must give to yourself.
"It's not gadgets or clothing,
It's simply self-care.
Learn to delegate, exercise –
Go some sunny somewhere."
I rolled my eyes,
I furrowed my brow.
"Listen," he said, "I've run this
For centuries now."
"You work for yourself –
It's a gift and a curse.
Stress is a killer,
Don't let it get worse.
"Entrepreneurs have it rough –
Anxiety, even sorrow.
Trust me – take a break!
I go to Bermuda tomorrow!"
He finished his whiskey,
Put his finger to his nose.
And just like the old rhyme said,
Up the chimney he rose.
I took his advice,
I breathed in deep.
I shut the laptop
And went up to sleep.
I smiled at our visitor –
So wise, though intrusive.
I heard him exclaim,
"Ho ho ho! Now, inclusive!
"Happy Hanukkah, Christmas, Kwanzaa!
Cheers from me and the elves!
And all you entrepreneurs –
Take good care of yourselves!"