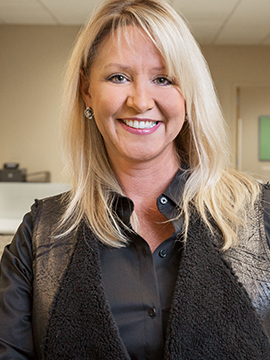 Jennifer Robinson's frequent use of the word 'Y'all' is a dead giveaway to her roots. Speaking of roots, Jennifer's are interesting. She raised show cattle and hogs, led backpacking trips, catered for her mother's restaurant business, played 3 musical instruments (not well), and holds a State FFA Degree. Her favorite classes at Oklahoma State University were agronomy, biology, and art history. This broad exposure to a variety of people, interests, and activities eventually led to her to an "ah-ha" moment that turned her fear that she'd been on a path of never ending schizophrenic interests…to a realization that she was well equipped to invest in the business of understanding and developing people. She truly appreciates everyone's unique wiring, background, and capacity. She has been called the Swiss army knife of organizations and has a sincere desire to improve both processes and employee contributions.
She started her career in staffing with a decade of service to Key Personnel where she moved from recruiting to placement, eventually settling in as an onsite staffing specialist for Williams Energy and Magellan Industries. Her next decade was in the non-profit world, contributing in both finance and human resources capacities for a large Methodist Church. She met a Midwest guy and the rest is history. She left her HR Director role and moved from Tulsa in January and is thrilled to have landed in a place that is every bit as eclectic as she is.
Jennifer absolutely loves her new home in KC and spends her free time with her husband, Geno and her giant Goldendoodle, Angus…. and is always thinking about what new hobby or interest is next on the horizon.